I
n our effort to provide the best inspection services available, we have invested thousands of dollars in the best computers, tools and other diagnostic equipment. In conjunction with our team inspection concept, our customers get the highest quality inspections. Give us a call and you will see how dedicated professional inspectors, with the best tools and training available will provide you the information you need to make decisions on one of the most significant investments,
your home.
Computerized reports - Our reports are easy to read and published to the Internet. See a sample here. This allows easy sharing of the information with sellers or contractors. We tried many reporting systems and found them incomplete, hard to understand and lacking in useful information. After extensive research and months of development, we created our own complete home inspection reporting system. Ours is fully web interactive, with extensive linking to the Internet for further explanation of the issues. You wont find it anywhere else!
Digital photography - We take pictures of all critical elements during your inspection and are experts in the fine art of digital photography. By using proper lighting, composing the subject and editing on-site (cropping, brightness, contrast, fill light and annotating) we make the most out of this valuable tool. You know what they say, a picture can be worth 1000 words, especially for buyers that are out of town or otherwise can't be at the inspection personally. All our work is published to the web in minutes after the inspection on a customized web page for each customer. See a sample photo web page here.
Mobile office equipment - We bring a mobile Internet connection to every job. This not only allows us to publish your reports in minutes, but gives us the ability to deliver further documentation to our customers on what we find. One example of this was a home that had a problematic electrical panel. When we told the buyers and seller about this, they were both quite upset. The buyer demanded something be done about the panel and the seller refused (he had built the house himself and never had a problem with it). Since we had the ability to print the documentation on that particular panel on-site, we defused this contentious issue on the spot, and the seller made the recommended safety repair concession to the buyer.
High speed color printer - Our blazing fast printer can print our entire 38 page report in under 3 minutes in full color!
Wood Destroying Pest ID Lab - We bring our lab equipment to every inspection, including microscope, insect collection tools, magnifying glasses, test tubes, identification charts/diagrams, and sample insects for comparisons. We make every effort to identify inspects on-site and provide our customers with advice in dealing with them. We are members of Washington Pest Control Association and routinely send samples of insects and insect damage to WSU entomologists for identification verification.
Specialty Inspection Equipment-Better Tools Mean Better Inspections
We use precise diagnostic tools to detect problems and advise on how to correct them. Without investing in the best tools, you are not giving the client the best inspections. Some of ours include:
Fluke Digital Multi-meter instead of an outlet tester, a multi-meter gives a much better indication of your electrical systems condition.
Flammable Gas Detector to locate natural gas, propane and other dangerous gasses.
Moisture Meter detects moisture under floors and behind walls.
Laser thermometer - for checking heating, cooling, refrigeration, and looking for faulty electrical systems.
Fluke Digital Multi-Meter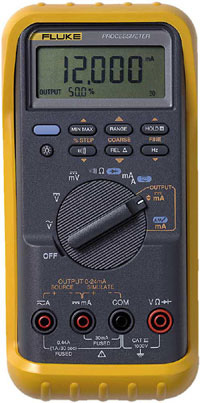 Most inspectors use simple outlet testers. While there are useful tools, (we have them too) our multi-meter can tell you so much more. This tool costs more, a lot more (70 times the cost of our outlet testers) and it is worth every penny!

We test the voltage of every panel that we inspect. It is also possible to detect many other conditions such as bad breakers, loose connections, over or under voltage supplies to name a few. This kind of thorough check of your electrical system is a standard part of our inspection service. Most inspectors don't have the equipment or training to perform these tests, but we do.

This is just one of the value added checks we perform. When we do find a problem, JJ's background in actually installing electrical panels, wiring, heaters, outlets, appliances and lighting circuits mean that we can pass you advice that most inspectors can't. In the event of a problem, we have a great electrical contractor that we have been working with for 25 years, and happy to recommend them to our customers.

Features of our fluke meter include: True RMS voltage and current measurements, 0.09% basic accuracy, 6000 count resolution, Digital display with analog bargraph and backlight, Manual and automatic ranging, Display Hold and Auto Hold, Frequency and capacitance measurements, Resistance, continuity and diode measurements, Min-max-average recording, Smoothing mode allows filtering of rapidly changing inputs, Closed case calibration through front panel, Ergonomic case with integrated protective holster, EN61010-1 CAT III 1000V / CAT IV 600V, Measures twice as fast as other multi-meters
Moisture Meter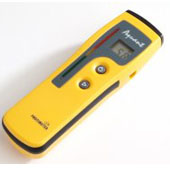 This tool is used to assess the relative moisture level of building materials such as wood, plaster, sheetrock, masonry, concrete and behind coverings like ceramic tile and vinyl floors. It is great for checking relative moisture conditions of building components in walls and floors. When we see a suspect stain on a ceiling or wall we can verify if it is old or still has high moisture content. This tool gives our customers extra peace of mind and security in our inspection process.
Features include: Detects moisture directly in materials and below wall and floor coverings such as tile, wood and vinyl. - Reset reading for sensitivity adjustment - Not adversely affected by surface moisture such as condensation. - Dual Display LCD and LED. - Color changing LED's to show moisture condition.
TIF Combustible Gas Detector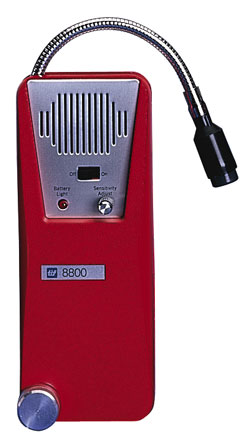 Whenever we have a gas appliance, it is checked for leaks. This is extremely sensitive, and we only report leaks that are also verified by smelling them also. This is very expensive tool, and not all inspectors use them. We do, and make every effort to keep you and your family safe from the real risks associated with gas leak hazards.

Features include:
Ultimate sensitivity 5 – 50ppm Checks for explosive gas in places where electrical measurement has to be taken - Warns against dangerous explosive gas - Instantaneous response - Used in almost any situation where combustible gasses, vapor or residues need to be found - Automatic warm up - Adjustable sensitivity - Audible "Geiger counter" type signal

Some of the detectable compounds are:
Acetylene, Iso-Butane, Methane, Ethane, Propane, Ethylene, Hydrogen, Methyl Ether, Vinyl Chloride, Methyl Chloride, Hydrogen Sulfide, Acetone, Methanol, Ammonia, Gasoline, Chlorine